How to Write About Awful Food Service
Now available.
And a recent article on an odd profiling incident in wine country and a common-sense solution is referenced with a link to Medium at the end of this post.
The cover below is the multi-purpose 96-page, 6×9 guide referenced in the previous post for angry patrons and aspiring food service writers.
The book's content will include instructions on using the notebook, an appendix of interesting resources and articles, and pages with a checklist of 30 questions that will help the reader focus on the service and other elements of their dining experience, past and present.
Could the experience be awful, exemplary, or discriminatory?
Restaurant Reviewing is a simple, helpful writing and fact-gathering tool for learning about an industry many know little about despite its popular pop-culture depiction in TV sitcoms and movies.
The questions in Restaurant Reviewing provide a template for anyone who wants to write about the changing Restaurant and food serve multiple purposes, such as overlooked information for aspiring food writers.
ISBN: 978-1-7365342-5-0
Paper: $30.00
Now available through your favorite bookseller or Ingram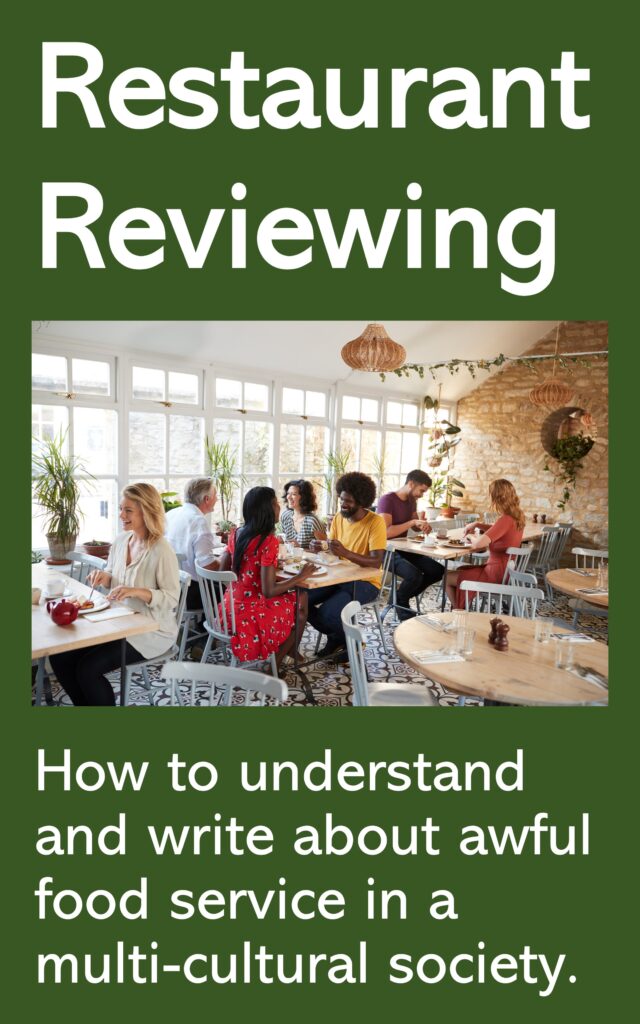 Celebrated musician racially profiled by restaurant manager's odd question
by Dee Adams on Medium
https://medium.com/illumination/celebrated-international-singer-racially-profiled-in-california-wine-country-b4bb6c40d6e1