Changing Your Work…
Changing Your Work or Career: How to Explore
Self-Employment Options After Injury or Illness,
Newly Revised
This resource guide has landed on a list of top
100 bestselling Amazon Kindle titles in three categories.
Septem.ber 29, 2015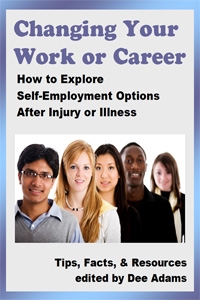 New PDF edition update and preview
Details on Teachers Pay Teachers.com
https://www.teacherspayteachers.com/Product/Entrepreneurial-Career-Change-After-DisabilityLessons-Bundle-1723215

Press Release
Online Press Release.com
http://tinyurl.com/mj6hqs6
  om
"Great book! I love all the resources
you have in this book."
Debra Muth, WHNP, ND, BSN,MSNH,BAAHP
Serenity Health Care Center, Greater Milwaukee
Author
The Dark Side of Injury:
And the Medical-Pharmaceutical Industry:
Tools for Protecting You and Your Family

References
Article…/PDF
Legalmalpracticergj
Check out Benjamin Yonatton's video below.
Source: November issue Safety-Net Parents
Jon Morrow
How to quit your job,
move to paradise
and change the world
Pro Blogger.com /2011
http://www.problogger.net/archives/2011/05/18/how-to-quit-your-job-move-to-paradise-and-get-paid-to-change-the-world/
 Life Hacks 
To  Get You Motivated/September 2015
The Marvelous Mind.com
Post summary: How a veteran and athlete confronted
with double amputation triumphed
http://tinyurl.com/pucyj2g
Triple Pundit.com
Electronics Recycling: Breaking Down
Barriers to Employment
http://tinyurl.com/n9dwgrh
Thom Hartmann
C-Span.org -Oct 4, 2015
In depth with Thom Hartmann
http://tinyurl.com/qfryvmf
http://www.thomhartmann.com/
Summary: The serial entrepreneur, author,
and talk show host discussed his experiences
in the business world, which started in his teens.
Hartmann's informative interview includes
fascinating historical references, pop culture
entrepreneurship, politics,
economics, health issues, and nutrition.
CNN Book TV.org
The Chain: Farm, Factory
& the Fate of Our Food
December 13, 2014
1 hour and 24 Min
Summary: You'll be glad chips and soda
are the only food being served here today;
warns the host before this presentation begins.
And 20 minutes into the interview you begin to
realize that viewers at home may want to avoid eating, too.
An eye-opening account of the food factory system in
Iowa includes the details about employees who develop unexplained
disability because of processing techniques (which will not be detailed
here). But suffice to say that 1300 hogs are processed each hour, up
from less than 500 hogs processed each hour prior to 2008…
Book TV.org…1 hour 24 Minutes
"The Mockingbird Next Door: Life with Harper Lee" Marja Mills
Summary:  Includes mention of the author, Marja Mills, and her
bout with Lupus while working on her manuscript about Harper Lee.
http://tinyurl.com/orpkdh8
C-Span.Org
Summary: Dr. Lennard Davis talks about the
history of disability and ADA
law. Q and A included.
http://tinyurl.com/p5uh9j8
http://lennarddavis.com/?page_id=14
60 Minutes
CBS news.com
Health Issues and flooring:
Chilling overview of where the flooring
may have been installed.
http://www.cbsnews.com/news/lumber-liquidators-linked-to-health-and-safety-violations/
Environmental lawyer and author
Stuart H. Smith
Note Smith's blog includes health-related topics
http://www.stuarthsmith.com/